4-WAY TOUCHLESS BUTTON SMU-04A
Anigmo 4-way Touchless Activation Button unit use patented capacitive sensing technology, developed and proven for years in other touchless Anigmo products.

This sensing technology can work through virtually any material enabling the control to be covered by any material from wood, glass to natural stone or ceramics.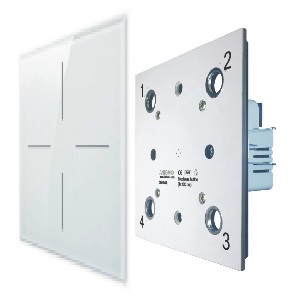 Versatility
4-way Touchless Button is a convenient way to replace multiple (up to four) push-buttons with a single unit. It can be mounted into a standard US single or double-wall box.

It is powered by a low voltage power source and provides a digital output signal when an object is detected in front of each sensor.

Convenient backlighting indicates the selected sensor and gives visual feedback to the user.

Using switchplates made from a wide variety of materials and colors, Anigmo 4-way Touchless Button can blend into the surroundings or stand out as a masterpiece, even the pattern on the front is fully customizable. The switchplate is attached to the 4-Way Touchless Button switch with four strong magnets.
The sensor surface is arranged into four quadrants. Approaching a quadrant with a hand activates the sensor in that quadrant. The corresponding output goes high and a background LED indicates that the sensor was activated.

Patented sensing technology achieves unprecedented reliability and noise immunity and can be used as a touchless activation device for wide variety of electronic devices and systems, such as home automation (via the HA digital input module), lighting (using power relays or power-packs), door activation, door locks and latches, motorized window shades and blinds, sunroofs, projection screens, security systems. It uses proprietary sensor technology for reliable detection of objects while maintaining large sensing range.