INSTALL ANIGMO TOUCHLESS CONTROLS
This page covers the installation of Anigmo touchless products. To see how to install Anigmo low voltage PWM dimmers click here >
Connect Anigmo touchless buttons or sensors according to the appropriate installation sheet. The touchless button has to be mounted into a standard wall box using screws. Align the decorative cover plate and gently push it into its place. It will securely attach with magnets. The cover plate can easily be replaced with cover plates of different design or removed for cleaning at any time.
Touchless sensors can be mounted by using four screws, double-sided adhesive tape or wire ties.
CONNECT THE POWER
Touchless sensors and Buttons work with Low voltage DC power supply. They can be powered from a DC PSU or battery. When powered from batteries please take the sensor standby current into the account.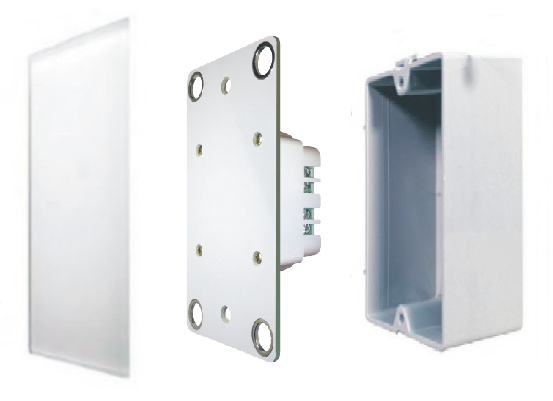 When powering Anigmo Touchless sensors or buttons or replacing the cover plate, the device will start calibrating. This calibration process is necessary to calibrate the sensor to the environment and takes approx. 3-5 seconds. During the calibration process, the device doesn't respond to hand movements.

Download installation instruction from the Support page >