Anigmo adds Touchless Elevator Buttons to the product line
06-10-2021
Anigmo Touchless Elevator buttons are designed as a direct replacement for mechanical buttons. They look and feel like regular mechanical elevator buttons. Because they implement the same proprietary sensing technology as the rest of Anigmo touchless products they need no openings or lenses to operate.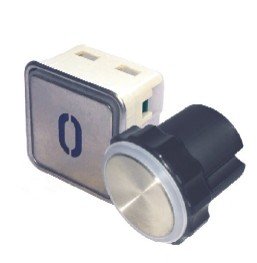 In addition to touchless operation, some Anigmo Touchless Elevator buttons offer a fallback to mechanical operation if needed. By disabling the electronics inside of the button, it can operate as a regular mechanical button. In case of emergency (such as fire or dense smoke), a single switch turns all touchless buttons into standard, mechanical buttons.
In case of power failure, the button automatically falls back to mechanical operation.
Anigmo Touchless Elevator Buttons have multiple advantages over existing touchless solutions currently on the market. To see all the advantages, please visit the product page.
The recent Covid outbreak highlighted the need for hygiene and exposed commonly touched public surfaces (such as elevator buttons) as a vector for disease spread. Many diseases have been transmitted in the past this way, from the common cold to the flu. While these diseases are not as deadly, they sure are annoying. A simple replacement of elevator buttons with touchless models can limit the spread of any disease, now and in the future. Even if some people will continue to touch elevator buttons, others will have a simple option not to. The future is touchless.